Music Ministry
Original and Remix Tracks – Doug Orlando Band
"Rest In Me" by Francie and Doug Orlando, original Hymn – Doug Orlando Band (Right Click to download)
OUR STORY – Radio Interview:
"Our Story – Radio Interview – Doug and Francie Orlando" – The DOB

"Rest In Me" – Listen to Doug & Francie's original hymn "Rest In Me" (Right click to download)
"Rest In Me" Sheet music to Doug & Francie's original hymn "Rest In Me" (Right click to download)
===================================================
===================================================
Doug & Francie Orlando have a history of musical creation and artistry. They have 5 albums, which have been compiled into one CD "Orlando Legacy Volume I". Their second CD is "Orlando Music Original Creations"
Doug & Fran Enjoy singing at a variety of churches, conventions, & conferences singing and ministering in music together. They have been singing and performing as a duet since for several decades. Their singing began in Doug's Band Episode and then at various church ministries beginning with Son City Youth Ministry in 1977 and thereafter. Music is copyrighted under their solely owned proprietorship "Doug and Fran Music".
Their home church in Chicago is Willow Creek Community Church, South Barrington, Illinois. Their new church home is Chandler Arizona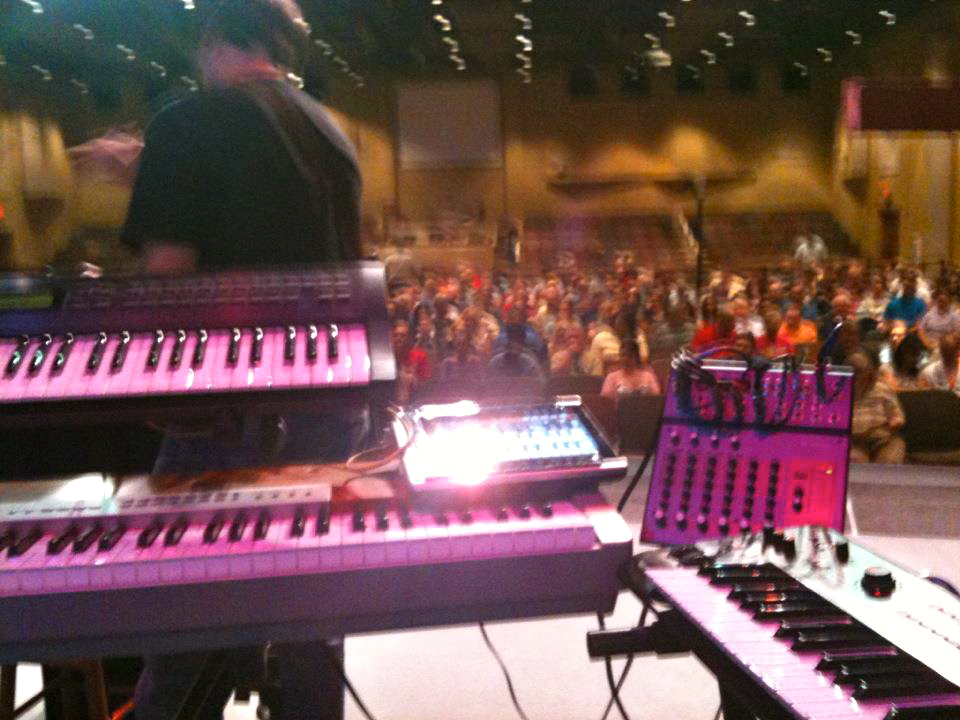 Doug Orlando began music lessons on Drums & percussion in Chicago Illinois, and moved to Keyboards (Piano, Hammond B-3 Organ and Electronic Music Synthesizers) in the late '70s. He enjoys playing other acoustical instruments (guitar, sax, violin, flute, and others) on the synthesizer keyboards. He has played in Chicago local bands such as "Episode (with guitar virtuoso Michael Angelo Batio www.angelo.com )" and "Sweetwine"
Doug Orlando – View from the stage
Click to see SPOTLIGHT on Doug Orlando Church Bands via Planning Center:
http://spotlight.planningcenteronline.com/dougorlando
In the late 1970's and he opened for bands such as KISS, STYX, Thin Lizzy and Ted Nugent. One of his favorite gigs was playing live with Abe Laboriel virtuoso bass player. He has created and led many bands over his musical career, recorded 5 albums of original music, and is thrilled to have the DOB Doug Orlando Band launched and playing in the Phoenix Chandler area.
During 1980 – 1990 Doug formed and led the Doug & Fran Orlando and Band" and performed at the annual "Ascension Convention" in Rosemont IL, directed the band for the musical "The Witness" for two years at Easter season, played for the weekly church services, and recorded 5 albums of original music including a Worship album with Christian Life Church in Mt. Prospect IL serving under worship leader Leann Paulson http://christianlifechurch.org/
During 1990-2004, Doug formed, led and played in several musical bands at Willow Creek Community Church http://www.willowcreek.org, South Barrington IL, in the WCCC Programming Ministry for the Leadership Summit, The Arts Conference, Student Impact, Son City and Sonlight Express, weekend or mid-week New Community services and programs as well as Men's Events; Men's Breakfast program serving under worship leader Rory Noland. Doug also led a Men's/Dads Small Group Bible Study at Willow Creek and active in the Men's Breakfast Ministry.
Click to see Willow Creek Church Stage Band gigs:
https://www.facebook.com/media/set/?set=a.10150841107531537.392822.544671536&type=3
Click to hear original songwriting audio recordings:
http://www.myspace.com/dougorlando
During 2004- current, Doug formed and led several bands in the Phoenix Area, one that was recognized in the Chandler area was The Ironmen Band which played several events for the Arizona Cardinals Breakfast. He also served as keyboardist for 8+ years at Chandler Christian Church http://www.chandlercc.org serving under worship programming pastor Danny Hughes.
Doug Orlando – Keyboards
YOU TUBE Video
NFL Monday Night Football ESPN Theme Ironmen Band Doug Orlando Oct 2010
Click to see Video of AZ Cardinals Breakfast NFL MNF Theme:
NFL Monday Night Football ESPN Theme Ironmen Band Doug Orlando Oct 2010
Doug is currently working in the IT Telecommunications Industry and located in Phoenix/Chandler AZ. He is the Global Data Operations Director at AT&T Business Solutions in Phoenix, AZ as part of the Managed Services Outsourcing Fortune 500 customers. Doug's key work history contains 20 years with IBM, and is currently with AT&T Business Services. He hired on with IBM as a customer engineer to repair computers in the early 80′s, and PC's, and mainframe computers. Now that he has completed his MBA he is looking to continue gigging at LIVE concerts, recording new music CD's concerts

The Ironmen Band – Doug Orlando, Ron Wolfley AZ Cardinals NFL breakfast

He is happily married with two children, daughter Laura, graduated ASU Arizona State University, and son Dan, graduated 2004 from ISU Illinois State University. Doug enjoys time with his family.
Influences
Jordan Rudess (Dream Theater), U2, Coldplay, Led Zeppelin, Beatles, Greg Rollie (Santana), Keith Emerson (ELP), Rick Wakeman (Yes), Sting (The Police), Michael Omartian (Paul McCartney & Wings), Ray Manzarik (Doors), Eric Clapton, Rush, Dennis DeYoung (Styx), Jon Lord (Deep Purple), Pink Floyd, Trans-Siberian Orchestra, Russ Freeman (The Rippingtons), Pinetop Perkins, Billy Preston (Blues Brothers), Oscar Peterson, Booker T and the MG's, Jimmy Smith, Keane, Kansas, Aerosmith, Matchbox Twenty, Greg Allman (Allman Brothers), Aerosmith, Chick Corea, Herbie Handcock, Peter Gabriel (Genesis), Jethro Tull, King Crimson, Gentle Giant, Kutless, Moody Blues, The Who, Rolling Stones, Sheryl Crow, Incubus
Equipment List
– Roland AX-09 Black Lucina Wireless Keytar / Shoulder Keyboard Synthesizer
– Roland VK7 Hammond B3 Organ/Leslie Simulator Keyboard
– Korg Radius R3 Synthesizer
– Kurzweil 88 Key Piano Keyboard SP88
– Yamaha EX5 Keyboard Workstation
– Oxygen 48 Keyboard and Mac LogicPro Studio Software